October Fishing Report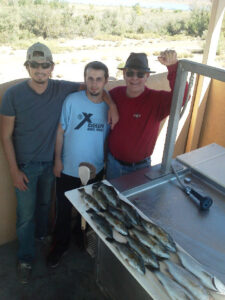 October is the month on Lake Powell when the weather is beautiful, the water is perfect (70-72 surface temp), and the fishing is fun and confusing at the same time. This last week of fishing was spent jumping from one spot to the next trying to find the fish.
Once fish were located and the first fish was caught, we could catch a couple more then the bite would stop. Once we found the best-producing locations for one day, the next day was different. The fish are really moving around as there are baitfish everywhere.
We actually watched fish chase shad right next to the boat as we fished with artificial lures, hard to compete with Mother Nature but we still managed to catch our share.
Many different techniques were used from day to day to catch fish. Tubes and single tail grubs were cast off rock points and the backs of coves in 15 to 30 feet of water. If slow or no action, try a long cast and troll these lures with your trolling motor, around 1.5 to 2 mph, this would usually produce a fish. I would normally never troll a tube, but this action was working the best in some locations.
Shad color rattle traps and crankbaits trolled off submerged rocks in the main channel will also produce some good hookups. After passing by a submerged rock at 18 feet, we had a double-on with two healthy stripers caught. When we trolled back by again, we caught 2 smallmouths. Going back to that spot and casting and spooning produced no fish, so back to trolling the same location with a few more fish landed.
A few small boils were spotted, but they were gone as soon as they were seen. Always ready for topwater action with a popper set up, we did have a few smallies entertain us with some aggressive topwater explosions.
There is still some good fishing to be done before the winter hits, so get out and get hooked up!
September Fishing Report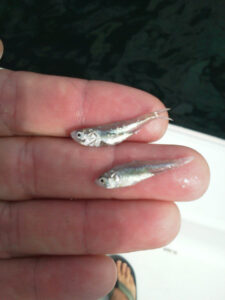 It's sure been a while since our last fishing report, but those summertime blues of slow bass fishing have come to an end. The shad are under attack by striped bass and smallmouth bass and the fisherman can chase these fish with good success.
After chasing striper boils in the main channel at first light, the smallmouth being caught were gorging on shad and throwing them all over the boat once landed.
The striper boils have normally been seen at first light, 6:00 till about 8:00, in the main channel from Antelope Point Marina to the mouth of Navajo Canyon. As you drive in the main channel keep a close eye on the lake surface and look for the striper to surface.
Once seen, drive your boat towards the boil and get within casting distance. Shut the motor off and let the fun begin. Top water poppers are our choice of lures at this time as the surface bite is extremely fun. Cast right towards the boil, in the action if you can, and pop your lure across the top and watch the bite.
Most other shad lures work well in these boils as the fish are in a feeding frenzy. Keep a good lookout throughout the day as we have seen more and more boils later in the morning and throughout the day. This morning was a bit off as we did not see the boils early this morning but found them later in the day.
When the boils slow down or are not found, don't worry, the smallmouth fishing is really picking up. Little Lake Powell smallmouth are loaded up on main channel rocky points in 25-30 feet of water. Single tail grubs on 1/8 and 3/16 oz. jig heads are doing the trick. Color choice has been smoke and watermelon, with white and chartreuse later in the morning when the sun is overhead.
June Fishing Report
Everything is biting on Lake Powell!! I went out to film a how to catch a striped bass video and absolutely ripped them up! Stripers are being really dumb and going nuts all over the lake. We're also catching the large and small.
This last week of fishing on Lake Powell has been super exciting. During the week we experienced warm days, cool days, wind, rain, and some great fishing. During this last week of fishing, we caught just about every fish species in the lake. Smallmouth have been the most plentiful, but largemouth, crappie, bluegill, sunfish, striper, and walleye have all been out to eat.
Some locations would produce 3 or 4 different species with the same lure. Smallmouth are all over the lake right now and are being caught regularly. Once you find yourself entering some murkier water with submerged rocks and tumbleweeds, be ready for largemouth, crappie, and others.
Single tail grubs, smoke or watermelon color, can produce a surprise catch at any time. Senkos, tubes, and crappie jigs are working as well.
If you feel fish nibbling at your larger lures but can't seem to get a hook set, switch to a crappie rod and jig and cast in the same spot. This has been producing some crappie and bluegill fishing at its finest. Come on out and enjoy the lake while the weather is still cool enough to fish all day and the fish are biting all day long as well.
May Fishing Report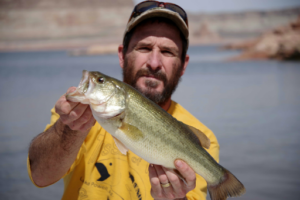 Luckily the low-pressure system that Danny had to battle through didn't have a negative effect on the fishing this weekend. Jeremy Christensen, his dad Bert, and I had a great time on the lake and boated many.
I had 2 clients fishing the whole time and myself getting in a few casts between maneuvering the trolling motor and taking fish off the hook (it was windy).
We ended up landing about 40 bass altogether, a lot of 1.5 to 2-pound fish with a handful of chunks. Our larger fish pushed the 3-pound plus range with a double hookup on two 4-pound largemouths to end the day!
I really don't think it matters what color or type of lure you throw at this stage in the game but large watermelon tubes with 3/8 and 1/2 oz tube hooks were our bait of choice.
We fished outside coves and inside the tight slots along the canyon walls. We caught fish on many different types of structures and the only common thread was that all the fish were shallow.
The bottom line is that spring fishing is upon us so get out the poles, clean up the tackle box, and get up to wonderful Lake Powell for some fantastic fishing fun!
April Fishing Report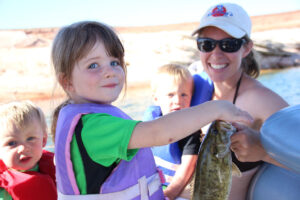 I had two good days but it was like fishing a different lake each day because of the warming water temps, due to the insanely beautiful weather we've been having.
On Saturday, I took Eric Warren and his father-in-law Gary out and it was the same bite that was happening in my last report. We didn't knock them dead but the action was good enough to keep us interested for the whole trip. On a great note, Eric boated the biggest smallmouth bass that I've had the pleasure of netting in quite a few years.
On Sunday my wife and I loaded the Gaggle of Fragles (aka My Progeny) on the boat and did our best to get a cast or two in between crying fits and diaper changes. It turned out that our children are great fishers and my wife and I were able to get some solid chunks of casting time.
I found out that Sunday was going to be different than Saturday right away when I spotted a nice two+ pound smallie sitting on a bed, right next to the dock on the launch ramp. With this little nugget of knowledge, I decided to focus on shallow lagoon-type structures, and sure enough, we found fish moving up onto the beading flats. They were very aggressive and attacked our tubes from a distance. Several times we were able to see the bite in the crystal clear water.
As for the 2+lb smallie a the launch ramp…we threw at her many times when we first saw her but she was very shy and would dart off every time she saw our baits. So when we returned in the afternoon I kept a low profile and sunk a Sanco right in the middle of the bed. She was powerless against its charm and I set the hook into her as she tried to move it away from her precious eggs. It was a joyous occasion!
Largemouths have been in the very back of coves and canyons associated with sunken tumbleweeds and we are catching them with the same lures but if the weeds are thick we have been switching to Sencos to avoid hangups.
I would consider the fishing to be in the fair/good category right now but any day now the switch is going to be flipped and we will be boating loads of fatties. Mark my words!
March Fishing Report
Fishing Lake Powell during March has been picking up day by day and is now hitting those magic 60-degree plus water temperatures. For the most part, the weather has been calm and warm and the water temperature has warmed up sooner than normal. But be ready, the springtime winds are upon us with afternoon winds picking up.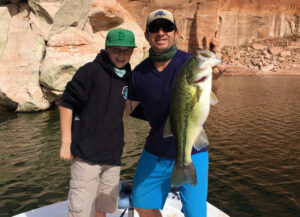 We have been doing really well with Sencos all spring but I'm sure most anything will work – single-tail grubs, hula grubs, and tubes. If fish were located on a shelf with submerged tumbleweed cover, larger fish were being caught. Once located, larger and heavier grubs were used to get down on the bottom, 10 to 15 feet of depth, to attack the larger fish.
Fishing any time during the day has been working lately. The "morning bite" is not always the best time to fish right now. Some of our days have not had good action until 11:00 or 12:00, so stay out on the water and keep casting!
The great news is that the anchovy bite for Stripers is on at the old familiar spots such as the dam and the Pump Station. Folks have been filling their ice chests quite easily. Give us a call and we'll put you on them.
The Largemouth population is very healthy and has provided us with some good action. The fish are localized in the warmer coves that see direct sun all day.
Contact Us
This Side of That Guide Service
232 Thunderbird Ave Page, AZ 86040 US
Phone: (928) 660-0136 Website: https://fishingpowell.com/