Captain Danny Woods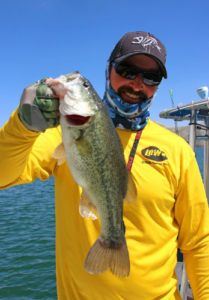 I have been an avid outdoorsman for as long as I can remember. My love for angling began in Lake Mead, Nevada, catching largemouth bass with my family. I was born and raised in Las Vegas then moved to Flagstaff Arizona in 1984, a mere two-hour drive from my beloved Lake Powell.
Traveling to Page AZ and fishing Lake Powell came often with plenty of family and friends who shared the same passions surrounding this magical lake. Living two hours from the hub of The Grand Circle only heightened my love for the outdoors.
Countless days of fly fishing in Utah's back county, bass fishing Arizona's lakes, and hunting public lands have given me more than just knowledge and experience. It has blessed me with respect for the outdoors. Safety for you and your family is always a top priority, with catching fish a close second. Becoming a fishing guide has only increased my dedication to finding fish and guiding on Lake Powell.
I have been in the fishing industry since the early 1990s. I was lucky, to work with my dad, brother, and friends who share the same love of the outdoors with me. We have owned many boats throughout the years, and all have seen plenty of fishing action. I feel I have gained the knowledge and experience to provide you and your loved ones with a quality and safely guided fishing adventure in Glen Canyons' beautiful Lake Powell.
Captain Kyran Keisling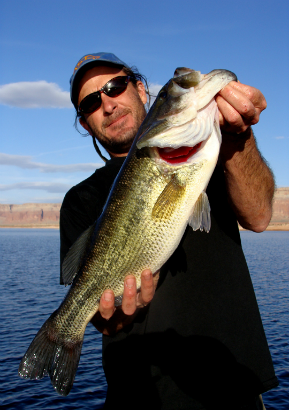 My Grandparents moved their family of 8 to Page Arizona before there was a Page Arizona. They doubled the population of this remote local. There was no Glen Canyon Dam and no Lake Powell, there was only Black Brush and sand.
Grandpa Johnny and Grandma Mary knew that the construction of Glen Canyon Dam would bring a town in its wake, so they opened a gas station and waited like prospectors for the boom to happen. Eventually, the town of Page grew around them and Grandpa Johnny's station became a fixture.
My Dad and uncles checked fluides, and air pressure, and filled tanks at the full-service station that sold Water Dogs and Ice to the fishermen that were headed to the lake. They watched Powell slowly fill and become the gem it has become.
I was born in '71 and my parents raised me in the emerald waters of Lake Powell. My wife Kristin and I have a daughter, identical twin boys, two dogs, two cats, and five chickens. I also have 3 brothers, 2 sisters, 6 nephews, 4 nieces, and 22 cousins.
I was born in Page AZ on the banks of Lake Powell and I will die here. I have fished, hunted, hiked, rafted, climbed, photographed….etc here ever since. My life has been spent exploring the unending possibilities that Lake Powell County has to offer. I obtained a Biology education at Northern Arizona U and promptly used it to get a job as a Grand Canyon white water guide.
Along the way, I taught myself to play guitar, write songs, and take pictures. I guided river trips in Glen/Grand Canyons for eight years and then stumbled into teaching. I now teach Photography at Page High School and coach Wrestling.
In the spring of '08, I fulfilled a lifelong dream and bought Bubbas Guide Service from my good friend Jim Cliburn and renamed it This Side of That Guide Service. I believe that we have created a business that is built on the foundation of quality customer service. I promise that there is no other guide business on Lake Powell that cares more deeply about your experience than This Side of That.
For some Lake Powell Fishing Videos check out my Youtube Channel This Side of That Outdoors.
Our Boat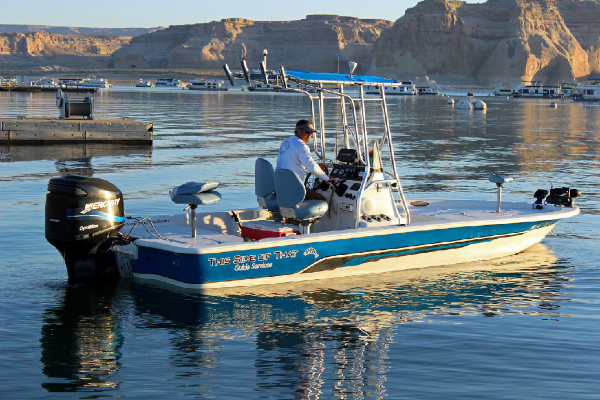 We will be fishing Lake Powell on a 23-foot Ranger Bay Boat with a 250hp Mercury Optimax motor. The boat is equipped with state-of-the-art Humminbird electronics and a 36-volt Humminbird trolling motor. "Joan J," as we call her, has plenty of storage space for all of your amenities and the T-top provides comforting shade at high noon. This boat is not like your average rocket ship tournament bass fishing boat, it can comfortably seat and fish up to five people. In the event of stormy Lake Powell waters its stability will calm the nerves.